Our world is changing, with technological development and consumer demands evolving faster than ever before. In this article, Irvind Ghai, VP of product Product Marketing at onsemi, sheds light on three market drivers that are gaining foothold in the ISP industry.
Right now, our world is undergoing radical, disruptive changes at accelerating speed, and there is no denying that unpredictability will rule and challenge conventional business logics in the ISP industry.
Luckily, every dark cloud has a silver lining. With change comes opportunity, and as an ISP, there are plenty of ways in which you can use changing consumer demands, digitalization, and technological development as a steppingstone to stay relevant and keep your competitive edge in these uncertain and turbulent times.
---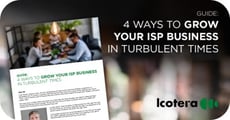 GUIDE: 4 ways to grow your ISP business in turbulent times

Learn how to turn challenges in the FTTH industry into opportunities and business growth. Download guide here

---

Here, Vice President of Product Marketing at onsemi, Irvind Ghai, points to three growing market drivers for ISPs to look out for right now.


"Personalized and value-added services will not only meet the end-user's ever-changing needs; they will also help the ISP stay relevant and ahead of the competition."
–Irvind Ghai, Vice President of Product Marketing, Wireless, Connectivity and Signal Processing Division at onsemi


#1 From standardized to personalized Wi-Fi services
One thing is for sure: The connectivity needs of the future will be more dynamic and flexible. And with flexible needs come customized demands.
– The way people are working and living their everyday lives has changed. Today's consumers are connected 24/7. Activities such as high-resolution TV/streaming and full HD video games put pressure on our Wi-Fi solutions, especially when the whole family is online at the same time, Irvind Ghai explains and adds:
– Furthermore, after the pandemic, the "old" way of working has been replaced with a more hybrid setup that combines an in-office environment with a remote working setup, keeping employees connected from anywhere in the world. And that is not going to change.
According to Ghai, there is an immense potential for ISPs to monetize their range with value-added services that support different customers' desires and needs instead of just offering a standard product at a flat fee:
– Personalized and value-added services will not only meet the end-user's ever-changing needs; they will also help the ISP stay relevant and ahead of the competition.
#2 Adopting new technology standards
The ISP industry is characterized by rapid technological development and fierce competition. Wi-Fi 6 is already here, 6E is ramping up, and before we know it, Wi-Fi 7 will become the new standard.
The Wi-Fi generations are coming and going faster than any other technology in the telco industry. As an ISP, you need to invest in both hardware and software that are wired to continuously adapt to these new technology standards.
Therefore, Irvind Ghai advises ISPs to establish close and continuous dialogues with their partners and suppliers in order to prepare for technology changes:
– Have more ongoing discussions with your partners to get a clearer understanding of your outlook. Plan ahead and share valuable know-how with each other to create durable and resilient business models.
#3 demands for quality
As we are truly living in a hyper-connected world, it is no longer just a matter of the need for speed. A stable and reliable Wi-Fi connection is – if not more important – as least as crucial to the optimal Wi-Fi experience.
– Once the fiber has entered your home, the throughput needs to be distributed efficiently in every corner of the home. Why? Because more family members are engaging in online activities at the same time. We are working from home both day and night. We are streaming more 4K TV than ever before. And the younger generation in particular is both consuming and generating content from YouTube, Tik Tok, and other social media, thus more downloading and uploading than ever, explains Irvind Ghai.
The conclusion: end-users' demands for high-quality Wi-Fi connection is vital for running a successful ISP business in the long run.


Want to know more about how navigate the opportunities, challenges and unpredictability in the market right now? Download our guide and get our recommendations on how to turn challenges into opportunities and business growth.


Download GUIDE: 4 ways to grow your ISP business in turbulent times here