We are increasingly looking for in-home devices that do not "disturb" the interior design of our homes. In this article you get the product designer's perspectives on why the interaction between performance and aesthetics is more important than ever.
These days, consumers are becoming more and more demanding. Not just about the speed and stability of their internet, but also about how the optical network termination (ONT) equipment will blend into their homes. We have been talking to Hugo Dines Schmidt, who is an Industrial Designer at the Danish design company VE2 and the man behind several of Icotera's CPE. Here he tells us about the reasons behind this development - and how best to meet the requirements of end users in terms of design.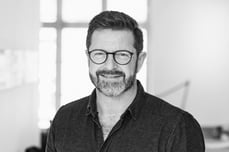 "We are moving towards a future where end users will increasingly ask to see the actual device to be installed in their homes before choosing a provider. And this trend is coming faster than you might expect."

Hugo Dines Schmidt
Industrial designer at the Danish design firm VE2, who are responsible for designing several of Icotera's products.

Why are end users becoming more and more design-conscious?
This is a trend that has gradually developed over the past decades. Today consumers expect more from a technical device than just high performance; they also want it to look good. If we only consider parameters such as performance and functionality, then more and more products can do pretty much the same. As a result, design has become a differentiating factor for the consumer. This is especially true for products such as integrated layer 3 devices. I firmly believe that we are moving towards a future where consumers will increasingly ask to see the actual device to be installed in their homes before choosing a provider. And this trend is coming faster than you might expect.
What kind of design style do end users look for in a CPE?
When all is said and done, a CPE is not a design object, it is a necessary evil. The vast majority of people would clearly rather do without visible cables and de-vices inside their homes. A CPE should then be designed as neutrally as possible to fit into the many contexts and spaces of the consumer's home. But at the end of the day, the design detail should be both functional and beautiful.

In general, I think the Nordic design tradition speaks to many consumers today - also outside Nordic countries - because there is a fundamental insistence on functionality and aesthetics going hand in hand. There is something beautiful about a product that can stand alone as a sharp and simple object – while also leaving users in no doubt that form, aes-thetics and choice of material have been carefully considered as an integral part of the product's DNA.
What design considerations do you have when working with CPE?
Just because a device is technically advanced doesn't mean that it has to look advanced. Routers that look like they've just landed from outer space - with antennas pointing in every direction – send out a noisy message of efficiency. But often, you need to have technical skills to avoid touching or pulling something by mistake, so these designs sometimes actually worsen performance. A product can easily be full of advanced technology while simultaneously being discreet. I am far more concerned with the tactile factors – and visually stimulating end users so they want to have this product in their homes.
It is also important to take into consideration what is also referred to as "wife-acceptance" factor when working with CPE. The product must not be a disruptive element in the home interior. The design must be well thought-out so that elements that need to be there - connectors, cables, antennas - are positioned in a way that is easy on the eye.
How do you achieve the right balance between aesthetics and functionality?
The product design is the face of the delivery, while the core performance itself is present as an "unseen factor". If the consumer does not experience satisfactory Wi-Fi coverage, design does not matter. At Icotera, I am involved from start to finish and work closely on both development and production. We continuously challenge each other on factors such as location and size of components, and aesthetics acts as a constant guideline throughout. The optimal compromise is an art form when ensuring that form, function, aesthetics, price and quality blend together.
---------

Want to know more about how ISPs can improve their business with an integrated layer 3 device solution without compromizing with aestically designed CPEs?
Find our e-book The way to a cost-effective ISP operation here