In a world where every home visit is costly it's key to limit expensive service visits and time-consuming repeated truck rolls. Terminating fiber the right way – first time, every time – is one of the most effective ways for network operators to ensure a low total cost of ownership (TCO).
When installing equipment in people's homes, gaining access is always an issue, especially given the fact that the hourly rate of a service engineer usually exceeds the price of the customer-premise equipment.
The installation part therefore makes a significant contribution to the network operator's total cost incurred in supplying the fiber-to-the-home (FTTH) solution.
Put simply, first time right when terminating fiber means following best practice guidelines to achieve the desired result on the first attempt.
By doing so, you will not only experience higher customer satisfaction, greater productivity, and improved installation performance. You will also establish a foundation for continuous improvement, knowing that your TCO is being held at an absolute minimum.
Here are the two most important ways to ensure first time right when terminating fiber.
1. intuitive fiber management
These days, with FTTH being deployed faster than ever before in many European countries, the demand for highly skilled fiber technicians is immense. However, the supply of such highly skilled employees is very limited.
Many network operators struggle with hiring enough skilled personnel to meet the continuous demand for fiber installation.
According to Jens Bundgaard, Technical Program Manager (TPM) at Icotera, one of the most essential ways to ensure first time right is to perform correct fiber management when installing fiber.
– Because of the sensitivity of the fiber cables, many things can go wrong when terminating. For example, you can easily damage the fiber if you're making bends that are too sharp or stressing the fiber by using the wrong pulling techniques, Bundgaard explains.
A good way to ensure correct fiber management is thus for the network operator to choose a supplier with an intuitive fiber management solution.
– With Icotera's fiber termination unit (FTU) you can finally say goodbye to the cable mess. The solution guides the service engineer through the installation process with the greatest of ease. It's an intuitive setup that reduces failures and speeds up the installation process, Bundgaard explains.
Experiencing firsthand how first time right when terminating fiber impacts the profitability, Icotera has over the last decade developed an FTU to support hassle-free first time right fiber installation. The result? Network operators can now supply their customers with a durable and intuitive fiber termination unit, installed quickly and with minimized risk of mistakes. Ensuring a profitable business - also when using technicians with different skill set.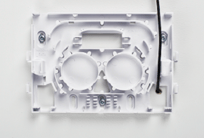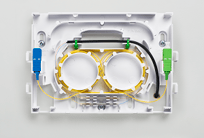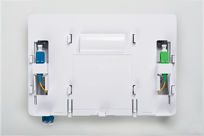 Intuitive fiber management reduce failure rates and support

a "

first time right" installation.
2. high quality equipment
When terminating fiber, it's not just a matter of pulling the fibers correctly. The cable and FTU must live up to the highest quality standards in order to avoid damage and minimize failure risks – not only during the installation process, but over the product's 15- or 20-year operational lifetime too.
– While an average router, by comparison, has a lifetime of three to five years and can easily be replaced by the end-user, the passive optical network is more time-consuming to access and replace once it's terminated into the wall, Bundgaard explains, and continues:
– As a result, the equipment has to have a lifetime of at least 15 years. If that is the case, then no one has to access it for a very long time, which also helps to ensure that the end-users don't begin to tamper with the fiber cables themselves. Therefore, it's extremely important to invest in high-quality equipment. If not, it can become a time-consuming problem for the fiber technician to resolve and thus a very expensive problem for the network operator to bear.
The robust design of Icotera's FTU ensures that years of operation will not affect the quality of the termination – even in unforgiving environments.
As opposed to other solutions, which use a vulnerable "twist," Icotera's FTU uses a vertical slide-on mechanism which ensures that the active gateway is 100 percent aligned with the connectors as soon as the active gateway is connected to the FTU.
After installation, the vertical slide-on mechanism uses gravity combined with an automatic locking mechanism to keep the gateway in place, even in situations where the FTU and gateway are being subjected to rough treatment, which often can be difficult to avoid.


Want to know more about how you can lower your TCO when terminating fiber?
Please reach out to Technical Program Manager at Icotera, Jens Bundgaard, at jbu@icotera.com.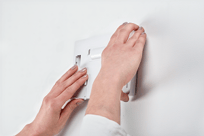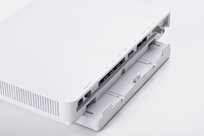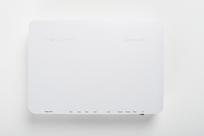 High quality equipment prevent damage and minimize failure risks over the product's
operational lifetime.
---

WANT to Deliver an internet experience – or just a box?
By taking control of the complete internet delivery, from the fiber connection to the Wi-Fi service, ISPs can create happy end-consumers having high-performing Wi-Fi with full in-home coverage – and make it a profitable business at the same time.
Learn how in our e-book The ISP Guide to Offering Wi-Fi Service - Find the e-book here